130t/h Biomass CFB Boiler has the following main features:
1)    The combustion temperature of the furnace is about 750°C, which can effectively prevent the fluidization failure due to low-temperature bonding of alkali metal-containing bed material.
2)    High-efficiency cyclone separator ensures rated steam parameters; direct-push biomass feeding from dense phase area at lower part of furnace.
3)    Tail flue duct is in a "curved" shape, which can prevent blockage by bonding materials and solve ash accumulation. The air preheater adopts enamel tube structure to reduce the HCI corrosion in flue gas.
In 2015, Institute of Engineering Thermophysics, Chinese Academy of Sciences began to develop 130t/h biomass CFB boiler. The ultra-high pressure reheat steam CFB boiler greatly improve the power generation efficiency of power plant.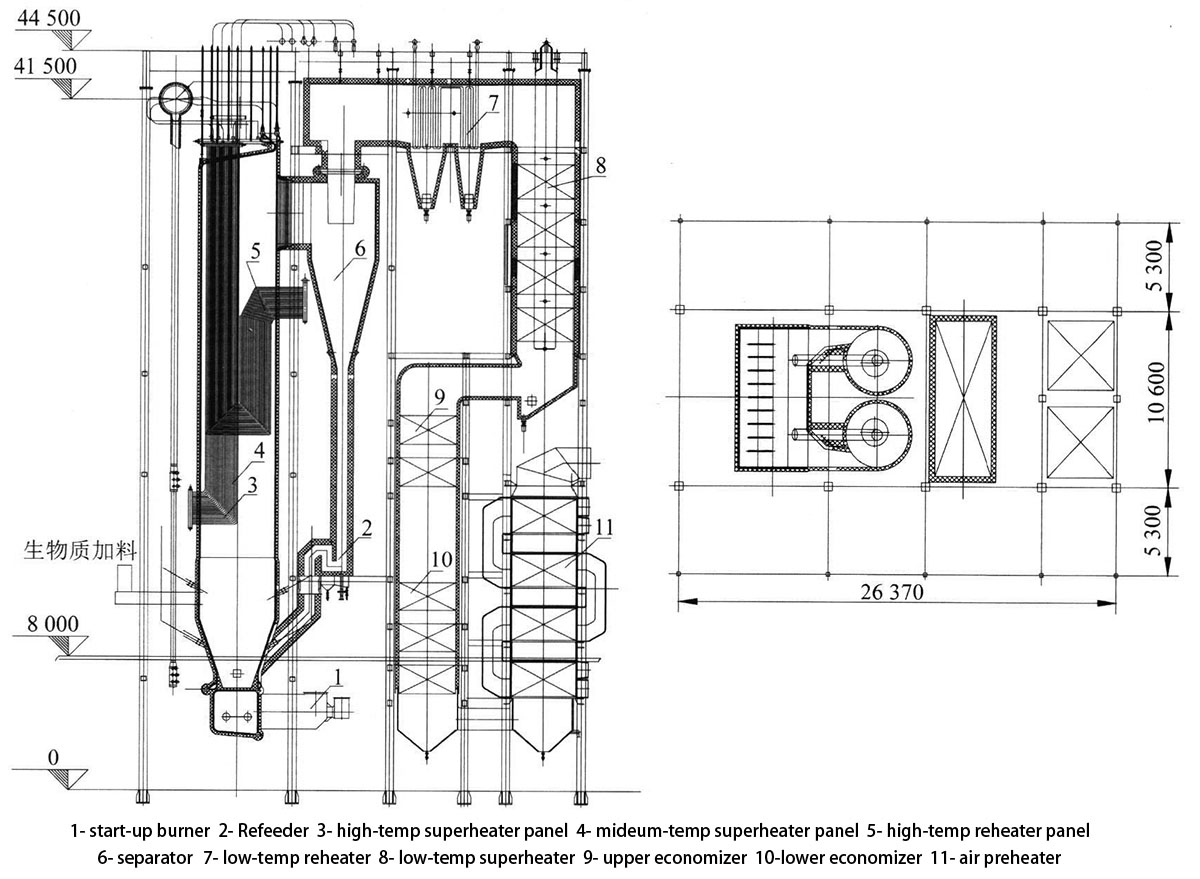 I. Structural Characteristics of 130t/h Biomass CFB Boiler
The furnace adopts low temperature combustion and reheat steam, so the steam process layout will be particularly important. The biomass boiler is single drum, natural circulation, fully suspended membrane wall structure. There are two high-temperature superheated steam panels, two medium-temperature superheated steam panels, three high-temperature reheat steam panels and two water-cooled evaporation panels in the furnace. The air distribution plate has air cap, and two slag discharge ports are connected to the slag cooler. Four horizontal biomass fuel feeding ports are at the front wall; two start-up ignition burners are on the rear wall. Two steam-cooled cyclones are between furnace and tail flue duct. The tail flue duct is low-temperature reheater, low-temperature superheater, high-temperature economizer, low-temperature economizer and air preheater.
II. Design parameter of 130t/h Biomass CFB Boiler
Rated steam flow: 130t/h
Superheated steam pressure: 9.8MPa
Superheated steam temperature: 540C
Reheat steam flow: 101t/h
Reheat steam pressure: 2.31MPa
Reheat steam temperature: 540C
Feed water temperature: 245C
III. Operation and Performance Test of 130t/h Biomass CFB Boiler
The fuels include bark, branches, corn stalks, peanut shells, wheat straw, etc. The 130t/h Biomass CFB Boiler runs stably and is easy to adjust, and various parameters meet the design requirement. The continuous operation time of the boiler has reached the best 195 days. The thermal efficiency is 91.24%, which meets the need of user.
---
Post time: Apr-04-2022