Gas power plant boiler refers to the gas steam boiler used to generate electricity. At the end of 2019, Taishan Group won the bid for a 55t/h gas steam boiler. The project is 10MW power plant for 1500t/d new dry process cement clinker production line in Bangladesh. The steam boiler is used to drive the condensing steam turbine to generate electricity.
The fuel is natural gas, and the fuel analysis report is as follows: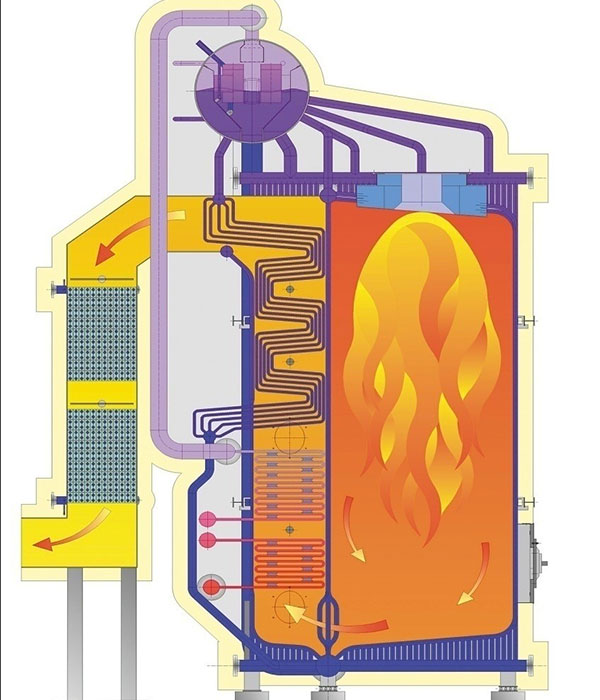 CH4: 94.22%
C2H6: 3.62%
CO2: 0.2%
N2: 0.05%
S: 7ppm
Specific gravity: 0.581-0.587
Lower heating value: 8610kcal/Nm3
Gas power plant boiler parameter:
Rated capacity: 55t/h
Steam pressure: 5.4MPa
Steam temperature: 480Deg.C
Radiation heating area: 129.94m2
Slag screen heating area: 15.35m2
Reversing chamber heating area: 18.74m2
High-temperature superheater heating area: 162m2
Medium-temperature superheater heating area: 210m2
Low-temperature superheater heating area: 210m2
Convection heating area: 15.09m2
Economizer heating area: 782.3m2
Air preheater heating area: 210m2
Feed water temperature: 104Deg.C
Air supply temperature: 20Deg.C
Flue gas temperature: 146Deg.C
Excess air coefficient: 1.15
Design efficiency: 92.4%
Load range: 50-100%
Blowdown rate: 2%
Design fuel: natural gas
Fuel consumption: 4862Nm3/h
NOx emission: 60mg/Nm3
SO2 emission: 20mg/Nm3
Particle emission: 5mg/Nm3
The gas power plant boiler is single drum chamber combustion vertical bulk steam boiler. The furnace includes the front wall, left and right side wall, rear wall membrane wall. The superheater is in the membrane convection flue duct. The burner is in the top, and the gas boiler is suitable for coastal area. It adopts positive pressure firing, which ensures sufficient combustion and low heat loss, and the air leakage rate is 0.
This is a new breakthrough after several power plant boiler projects in Vietnam and Thailand. And this is the first gas power plant boiler in overseas market, laying foundation for exploring wide Bangladesh market. In recent years, Taishan Group actively expanded overseas power plant boiler market through website promotion, overseas exhibition and bidding. Prior to this, Taishan Group has exported many industrial coal fired boiler and gas steam boiler to Bangladesh. We will arrange the production as soon as possible, ensure the safety and quality, and provide customers with satisfactory product.
---
Post time: Mar-03-2020