SHW Biomass Boiler
Product Detail
Product Tags
SHW Biomass Boiler
Product Description
SHL biomass boiler is double drum horizontal boiler with chain grate, which is suitable for burning the biomass fuel like wood chip, biomass pellet, etc. The front furnace is composed of water-cooled wall, and front and rear water-cooled wall composes the water-cooled arch. The convection tube bundle is arranged between the upper and lower drums, and the economizer and air preheater are arranged at the rear of the boiler. A soot blower interface is reserved at the heating surface of boiler convective tube bundle and economizer.
SHL series biomass boiler can generate medium and high pressure steam with rated evaporation capacity of 10-75 ton/h and rated pressure of 1.25-9.8 MPa. The designed thermal efficiency is up to 82%.
Features:
1. "W" shape flue gas flushing direction in the convection tube, effectively overcoming the ash deposition; increase the convection heating area to ensure sufficient output.
2. Heavy three-story furnace wall ensures good insulation effect, effectively reduce the heat loss.
3. Small flake chain grate features little leakage, high manufacturing precision, sufficient fuel combustion, and simple maintenance and replacement.
4. Independent air chamber ensures reasonable air distribution, improves operational stability.
5. Optimized design of front and rear furnace arch; reflective ignition type front arch is conducive to fuel ignition.
6. Small power consumption, low noise, stable operation, and overload protection device.
7. High heat transfer efficiency and small flue gas flow resistance solve low-temperature corrosion of economizer.
Application:
SHL series coal fired boilers are widely used in chemical industry, paper making industry, textile industry, food industry, pharmaceuticals industry, heating industry, construction industry.
Technical Data of SHW Biomass Steam Boiler
 Model
Rated Evaporation Capacity (t/h)
Rated Steam Pressure (MPa)
Feed Water Temperature (°C)
Rated Steam Temperature (°C)
Radiation Heating Area (m2)
Convection Heating Area (m2)
Economizer Heating Area (m2)
Air Preheater Heating Area (m2)
Active Grate Area (m2)
SHW6-2.5-400-SW
6
2.5
105
400
14.8
110.4
163.5
98
8.5
SHW10-2.5-400-SW
10
2.5
105
400
42
272
94.4
170
12
SHW15-2.5-400-SW
15
2.5
105
400
62.65
230.3
236
156.35
18
SHW20-2.5/400-SW
20
2.5
105
400
70.08
490
268
365.98
22.5
SHW35-3.82/450-SW
35
3.82
105
450
135.3
653.3
273.8
374.9
34.5
SHW40-3.82/450-SW
40
3.82
105
450
150.7
736.1
253.8
243.7
35
SHW45-3.82/450-SW
40
3.82
105
450
139.3
862.2
253.8
374.9
40.2
SHW75-3.82/450-SW
75
3.82
105
450
309.7
911.7
639.7
1327.7
68.4
Remark
1. Design thermal efficiency is 82%.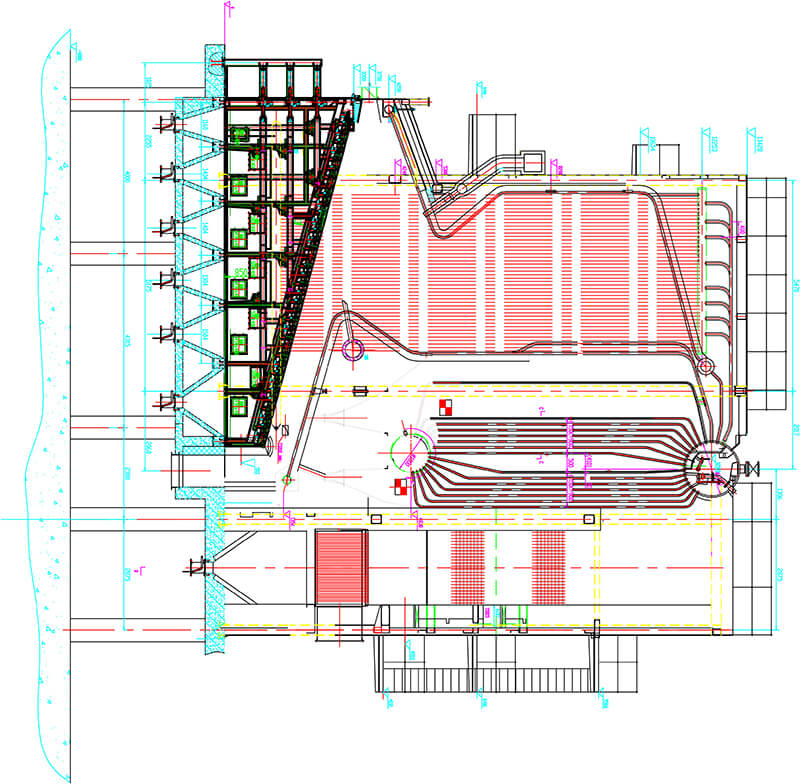 ---
Previous:
DHW Biomass Boiler
Next:
SZL Biomass Boiler
---
Write your message here and send it to us
Related products
CFB Biomass Boiler Product Description CFB (Circulating Fluidized Bed) biomass boiler is energy saving, environmentally friendly and efficient. CFB biomass boiler can burn various biomass fuels, such as wood chip, bagasse, straw, palm husk, rice husk, etc. CFB biomass boiler features larger heating area, low bed temperature combustion, low bed pressure technology, staged combustion, efficient separation, SNCR and SCR denitration, low excess air coefficient, reliable anti-wear technology, matu...

DHW Biomass Boiler Product Description DHW series biomass boiler is single drum horizontal inclined reciprocating grate boiler, the reciprocating grate's angle of inclination is 15°. The furnace is membrane wall structure, furnace outlet has slag-cooling tubes, and furnace outlet flue gas temp is lowered to below 800℃, lower than the melting point of fly ash, to prevent the fly ash from slagging on the superheater. After the slag-cooling tubes, there are high-temperature superheater, low-temp...

SZL Biomass Boiler Product Description SZL series biomass boiler adopts chain grate, which is suitable for burning the biomass fuel like wood chip, biomass pellet, etc. SZL series biomass boiler is double drum natural circulation boiler, the whole into an "O" -shaped arrangement, use of chain grate. The front of boiler is the rising flue duct, that is, the furnace; its four walls are covered with membrane wall tube. The rear of boiler is arranged convection bank. The economizer is arranged ou...